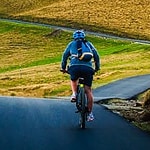 Here in Twin Falls you are likely to encounter bicyclists on the roadway. The Car Store wants drivers to share the road safely with cyclists. Here are a few simple tips that will make sure everyone is protected.
Intersections are especially vulnerable for bicyclists and drivers. If you have a bicycle on your right, be aware that the rider may be turning in the same direction as you are. You should also be conscious of your blind spots. These are easy places for a bicycle rider to disappear.
About three feet is the recommended distance to keep between your vehicle and a bicycle. Remember, this is just a guideline. Allow whatever room you feel is necessary to prevent an accident. Be patient when waiting to pass a bicyclist, and always pass on the right side.