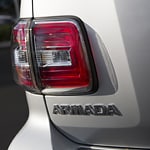 The Nissan Armada's performance features deliver all-season confidence, V8 power and easy cargo hauling. It is clear that Nissan has created a powerful and versatile crossover SUV when looking at the Armada. As a result, it will appeal to the performance needs of Twin Falls motorists on the hunt for a new crossover SUV.
413 pound-feet of torque paired with 400 horsepower is what the Nissan Armada's 5.6L V8 engine delivers. This aggressively powerful engine is enough to handle both highway and off-road driving adventures. The Armada will haul your trailer with ease due to its sophisticated towing technologies and 8,500-pound maximum towing capacity.
Finally, The Car Store's Nissan customers can count on the Intelligent 4×4 system and Active Brake Limited Slip to get them through their most treacherous off-road journeys. In particular, the advancedtwo-speed transfer case allows the Armada's Intelligent 4×4 system to be even more efficient.