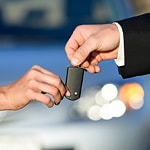 Refinancing your car may be an option if you want a lower car payment, but you don't have to go through a long consideration process if you determine it's better to trade in your vehicle. For some reasons, trading in your vehicle does offer bigger benefits if you simply want a new car with more technology for a lower price.
Refinancing means that you'll change your loan length and possibly lower your interest rate for a lower car payment. However, unless you really want to keep your car, you can trade in your vehicle and get a lower car payment.
Trading in your car is a much shorter process. The goal at The Car Store is to help any driver in Twin Falls looking for a new car that has more performance and newer technology. You don't have to refinance to lower your car payment. There's multiple options available.