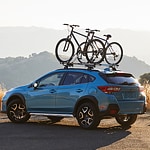 We often have to make compromises when it comes to finding the perfect vehicle. It's almost impossible to check off every wish on your vehicle list. But then there's Subaru. The brilliant engineering behind the new Subaru Crosstrek that lasts for decades, along with all the latest in technology and safety, leave no room for compromise.
Technology has taken safety to the next level in recent years, and the Crosstrek is no exception. One of its innovative EyeSight Driver Assist features is Pre-Collision Braking. It has been proven to lower the frequency of pedestrian accidents by up to 35 percent by applying the brakes when it senses an object in front of the car. Going hand-in-hand with the Pre-Collision Braking is the Pre-Collision Throttle Management. In the case of an imminent collision, it can reduce engine power to help minimize the impact of the accident.
To experience the highest quality of safety for yourself, come out to The Car Store and take a used Subaru for a test drive. Discover true peace of mind.