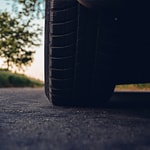 With the winter season winding down, many people are wondering if they can keep using their dedicated winter tires even during the warmer spring and summer months. The tire experts and enthusiasts at The Car Store want to guide you to make the best decision for your vehicle.
The short answer is it that winter tires are not recommended for use year-round. For example, winter tires are engineered with technology to maintain traction even on snowy and ice roads. While these features help them to perform better during the winter, the same structure can also cause damage if driving around during the hotter months of the year.
As the mercury begins to rise, the special winter tire treads and studs may cause more wear and tear. The specific winter features may also affect your vehicle's handling and safety. Most manufacturers recommend changing the tires when the temperature consistently hits 45 degrees, but feel free to call the helpful team at our service center to check!