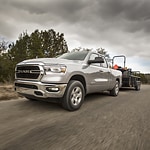 The 2019 Ram 1500 might be the best truck ever! It has a ton of exterior features that are sure to turn heads. If you're in the market for a new pickup, look at these features and see if they would work well with your lifestyle.
Ram's new grille is a bold and aggressive design that any truck owner can appreciate. Its vertical-slat grille not only leaves a unique impression on onlookers, but it increases the amount of air the engine receives for maximum airflow when you need power—no more overheating when you have to tow or haul!
A new technology found on the 2019 Ram is called Truck-Bed Orientation. It uses large air vents at various locations throughout the truck bed so that you can use onboard power tools and compressors without overheating your engine. This helps to prolong the life of your vehicle and save you money in maintenance costs!