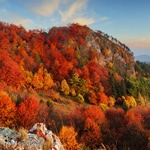 If you are planning to go leaf-peeping, you are certainly not alone. Each year, thousands flock to Maine, Vermont, and New Hampshire to catch a glimpse of fall's stunning foliage colors. Before you set out on your journey, here are some tips to make the trip enjoyable and relaxing.

When to Visit

The fall season lasts from September through December. However, you'll want to visit New England in September to catch the most stunning leaf displays. If you want to keep seeing changing leaves, you can even head south, as leaves generally change color from north to south.

Use Your Maps

Your car likely has navigation or an interactive map. Along with providing basic instructions, the map tells you where you can see the best foliage. It also recommends restaurants and other sight-seeing activities.

Travel Mid-Week

Most people take to the roads on the weekend to see the leaves change color. However, traveling mid-week instead means fewer people and spectacular sights.