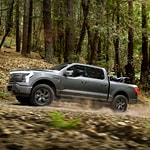 The trailer theft alert system is one of many cutting-edge features that come standard on the Ford F-150. You'll be warned immediately if someone attempts to break into the trailer, thanks to this cutting-edge security system. The instrument cluster's 4-inch productivity screen makes it simple to monitor travel time, mileage, and other relevant information while driving.
Additionally, it has an 8-inch touchscreen display in the center console that can be used as a terrific entertainment center while driving. It is possible to customize the truck's performance by switching between different driving modes, like sport or manual. Off-roading and traversing the most challenging terrain are now no problem for the vehicle.
To make it easier for fleet owners to keep track of their vehicles and their drivers, the F-150 incorporates a fleet telematics system. There's also an engine throttle responsiveness and efficiency-enhancing Trail One pedal drive. To keep up with traffic or attain highway speeds, drivers can use Trail Adjust to manage the vehicle's throttle speed.